Back in 2020, Apple unveiled plans to release the Identifier For Advertisers (IDFA), the company's latest mobile operating system update, iOS 14. Apple's announcement caused quite a stir, particularly among advertisers on Facebook, who were particularly enthusiastic. Apple postponed the release of its iOS update until the first quarter of 2021. Now when 2021 has almost finished we wanted to take a look on 4 Ways to Navigate Apple's iOS 14.5 Privacy Update with Facebook Dynamic Ads in 2022 for companies who hasn't yet made changes.
The iOS release has been on the horizon for few months now, but there is still a lot of anxiety surrounding it. Now, there are still those who are preparing for the iOS 14 Facebook tracking update and those who have already done everything they can.
Learn more about the update and how it can affect Facebook dynamic ads, as well as how to best prepare for the change, to better understand why this is happening.
iOS 14's privacy enhancements explained.
Apple explained that the IDFA (or Apple ID For Advertisers) was created to assist advertisers in measuring the effectiveness of their advertisements as well as tracking devices and people on the Internet of Things.
It works as follows: after installing the iOS 14 update, users will receive a pop-up asking if they want an app (such as Facebook or Instagram) to be able to track their online activity.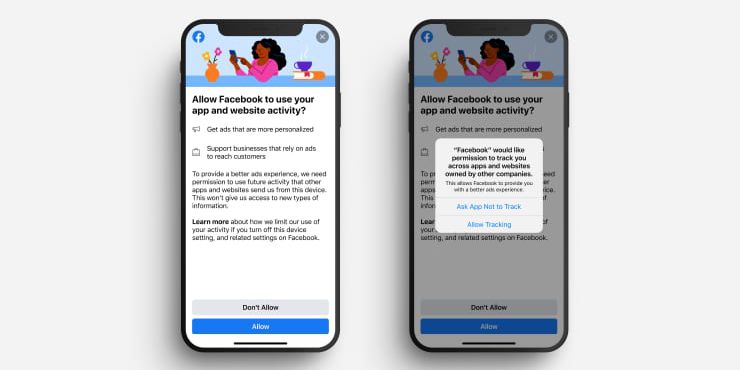 Throughout the months leading up to the update, Facebook has been emphasizing how it will affect the performance marketing workflow for brands and agencies – including targeting, optimization, and reporting of conversion events. More importantly, when the update is released, Facebook will change the attribution windows to include:
The use of a 28-day attribution period will not be supported.
The 7-day click attribution period will remain in effect.
View-through attribution will not be supported for a period of seven days.
What Else Can Be Expected:
Expect to see a decrease in the number of people in the audience.
Expect delays in performance reporting, as well as changes to the Attribution Window interface.
Changes to the attribution window settings at the account level.
Despite the fact that the update has already taken effect for a large number of people, it may be some time before we know how much it will affect businesses.
What is the impact of iOS 14.5 on Facebook tracking?
While Facebook tracking on iOS 14 may have an impact on your campaigns on paid social, you can still collect and store valuable user data.
When an Apple user refuses to share information, it does not rule out the possibility of tracking conversions. Facebook still allows you to track a single conversion event, despite the fact that the platform has changed. You can use Facebook to track one of the most important conversion events – the purchase – by configuring the platform.
When running a conversion campaign for an online store, Facebook will not be able to track every single conversion event – for example, when a user clicks on one part of the site, then clicks on 'add to cart', and finally makes a purchase. This means that Facebook only keeps track of the events that you have designated as high priority, and each event can only be one.
It's important to remember that tracking the purchase itself is a big deal. You keep track of things like the number of purchases you made, when they were made, how profitable they were, and so on. At the end of the day, conversion campaigns should be focused on the purchase (including stats like purchase numbers, cost per purchase, and so on).
From now on, brands will strive to achieve the best results possible from their conversion campaigns.
4 Smart Steps to Prepare for the Implications of iOS 14.5
It goes without saying that when businesses launch conversion campaigns, they will have a limited amount of user data at their disposal. Despite the fact that the prospect of creating a better strategy for your campaigns can be intimidating, we encourage you to concentrate on the following four steps as you prepare for the upcoming iOS 14 change:
Personalize with data from your own brand
Specific Conversion Events Should Be Given Priority
UTM
Optimize Goals on Google Analytics
1. Personalize with Owned Brand Data to gain access to more data.
Personalization and contextualization will, of course, be more difficult to achieve to a certain extent in the future. However, it is not an insurmountable challenge. Brands will rely on their own data more than ever before, and they will take advantage of benefits such as geo-personalization targeting, setting up multi-language campaigns, utilizing personalized offers and weather-based creatives, as well as relying on video ads to increase engagement.
Additionally, you can still tell the difference between advertisements that produced these results and advertisements that did not. Brands can now embrace automation and be even more creative with their Facebook advertising, allowing them to concentrate on long-term value rather than short-term profits.
2. Establish a hierarchy of importance for specific conversion events.
Certain information about how people made their purchases is important. When the new version of the software is released, you may want to change the direction of your campaign strategy. In your Facebook Performance Measurement data, you may want to keep an eye out for any other specific events that occurred this time around. For example, if you only receive information after a purchase has been completed, try to concentrate on last-click conversion events in your Facebook and Google Analytics metrics. To think of it this way, you are narrowing your options and focusing on what is important – the conversion itself rather than specific events that led up to the conversion. This is how iOS 14 Facebook tracking can become a valuable addition to your overall strategy when implemented correctly.
3. Utilize UTM tracking to gain access to additional information.
The iOS 14 update may cause a significant number of blind spots in the data collected for your campaign performance. The use of Google Analytics can assist you in navigating around this problem. Whenever you advertise on Facebook, make sure to include UTM parameters in the URLs of your website. Any data collected by Facebook will be recorded in your Google Analytics account as a result of this arrangement.
UTM tracking enables you to backfill user insights and generate additional information about your target audience – such as where they are coming from and which links they are clicking on.
4. Optimize your Google Analytics objectives.
As soon as you've set up UTM tracking, you should create Google Analytics goals that are aligned with the most important conversion actions that are being tracked on Facebook. In this way, you will be able to see additional goals completed within your performance metrics as they are being completed. Any decrease in conversions will now be visible, and you will be able to use this information to optimize, improve, and develop a more effective strategy for future campaigns.
Conversion campaigns have a bright future ahead of them.
The Facebook tracking feature in iOS 14 necessitates the customization of your conversion campaigns to the greatest extent possible.
So, what will happen if the changes begin to have an impact on the profitability and outcomes of your campaigns? For starters, it will lower the cost of paid social advertising – that is, it will lower cost per thousand impressions (CPMs).
Brands that rely on paid social for short-term gains will most likely abandon the strategy if they are unable to adapt to the new environment. Those who remain, on the other hand, are likely to reap the following benefits:
Cost-cutting measures
There will be less competition.
Customer service that is more effective
This is a good time to check in with users to learn more about their attitudes toward tracking and personal information.
So keep an eye out for updates, and in the meantime, please do not hesitate to contact us if you are experiencing any difficulties with iOS 14 Facebook tracking in your conversion campaigns.