WordPress Speed Optimization Service
Finally, a team you can count on to reach loading times of less than 2 seconds
With our WordPress speed optimization service, we will take your site from frustratingly slow to below 2 second load times (and much faster on high-quality hosting).
Your sluggish WordPress site damages your Google rankings and you lose clients as we speak.
Your website performance improved in 3 steps.
Our team will review the website and advise what's possible.
Based on discussion with you, we implement the changes. 
Enjoy an improved user experience with a faster website.
Why us? Because no one else does what we do!
Like our rivalry, we don't load a few plugins and call it a day. We are also not lying to you and selling you on fictitious 'Load Times' which has absolutely nothing to do with what the real users on your site are actually experiencing.
In addition, we don't sell you ratings on general best practices recommendations resources that don't align with the real-world success. Rope you into services you don't need, or trick you into a sales funnel designed to bamboozle you into paying you ten times more than you thought you 'd.
Instead, through a meticulous process of testing various different performance configurations, we are making your WordPress-powered website as quick as it would be for actual, human users of your site.
The end result of our research is a custom-made, real-world, outcome-oriented system that is scalable, self-maintaining, self-evolving and as automated as possible so you can move forward with your business.
Once your full WordPress Speed Optimization project is complete, your website will be practically impossible to run any faster.
About WordPress Speed Optimization Service
We will optimize WordPress and your theme to boost the quality of your site, user experience and performance.
Running a lean, mean database can result in faster response times. Databases can get overloaded with unnecessary content over time. We are able to delete all outdated comments, garbage, old revisions and all other redundant stuff.
Some plugins can boost the efficiency of your website but at the same time they can also put a strain on your resources and slow your website down. If you have a plugin that is slowing your website, we'll spot it and recommend an alternative. Also we will do a complete website update in the event of an outdated plugins.
We will have the best caching plugin in its class installed and configured. The plugin can manage caching, HTML-CSS & JS minification of your website and lazy loading of your photos making the loading of your WordPress website considerably faster.
We all know photos are heavy byte and can be a huge drag to the speed of your website. We will compress your images using an image compression plugin which will improve your load time. Important images will be optimized manually to make sure we have best quality. It's also important to use newest image formats like .webp
We need to remove or fix content that has been relocated or no longer exists on your website. Otherwise, visitors who open pages with broken links will be delayed as the services return a 404 error. Google penalizes pages that have broken links so repairing them can boost your SEO.
A lot of requests can be the biggest fault why your website is loading slowly. Minimizing those requests and only asking them to load when they are needed helps to improve the speed a lot. In most cases, we can double down the amount on requests.
Before we get started we need more details about the exact issue you 're having and also need to get some logins from you.
When we have access to your website, we take a backup and then work through a thorough checklist to find the underlying cause of the slow website. There are typically one or two common reasons why the site runs too slow or great opportunities for optimization.
Approximately half of our customers have a very slow loading site and want it to be improved, the other half already have a quick website but want it to run as quickly as humanly possible while improving backend and getting rid of unnecessary things!
Typically we'll need a WordPress logins and FTP or Cpanel access at the administrator level.
As part of our Speed Optimization Service for WordPress we may
If you're on this page you probably have some sort of trouble loading your website slowly.
I'm sure you're well aware of that and I don't even have to warn you that if a website is slow to load, you'll lose patience pretty quickly and go elsewhere.
The website speed and user experience of your website is tied to your Google scores, your Adwords and Facebook ads and all the lead conversions that come to your website. 
The prospects and even your current customers are disappointed if your site is slow to load. Google doesn't like slow websites, and has confirmed publicly that slow websites are not going to rate as high in the search results. This has been verified by our experience working with clients on their SEO too.
It's hard to argue with the fact that a slow loading website has a major negative effect on your business ' overall results, as well.
Luckily, if you know what you're looking for it is usually a fast fix.
We'll repair your slow loading website with our WordPress Speed Optimization Service.
Because we began in 2018 to optimize WordPress websites.  Now when we're in the middle of 2020, we have optimized well over 300 pages!
Usually most of our customers who purchase our WordPress Speed Optimization service should see their site's load time falling to somewhere between the 1-3 second range. Many start in about 5-16 seconds everywhere, often more frequently because many consumers don't really have a slow website, they just want it to be configured and loaded as quickly as possible.
Our service also includes an optional migration from your hosting to better server. We run few tests and determine if your host is good enough. If not, we suggest an alternative or host it on our servers.
In general, between 1-3 seconds is where you have to be in terms of appropriate load times and less than 1 second is the magical threshold where the load of the page feels almost instantaneous. Anything above 5 seconds will start damaging your Google rankings and the rate of conversion (sales, inquiries, phone calls, bookings, etc.).
We do speed checks before and after every site that we work on. We check your entire site with our higher level services! Below are some results our customers have seen recently.
Want to find out how fast or slow your website is?  Go to Google Page Insights or GTmetrix and try it on your own (do 2-3 tests to get the average load speed accurate).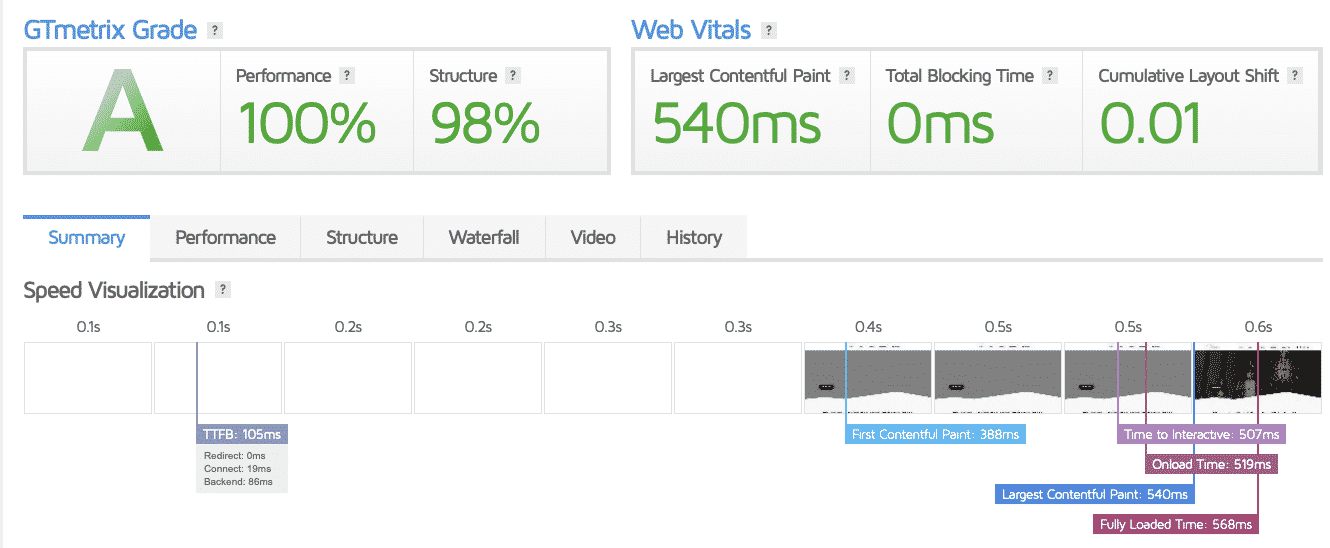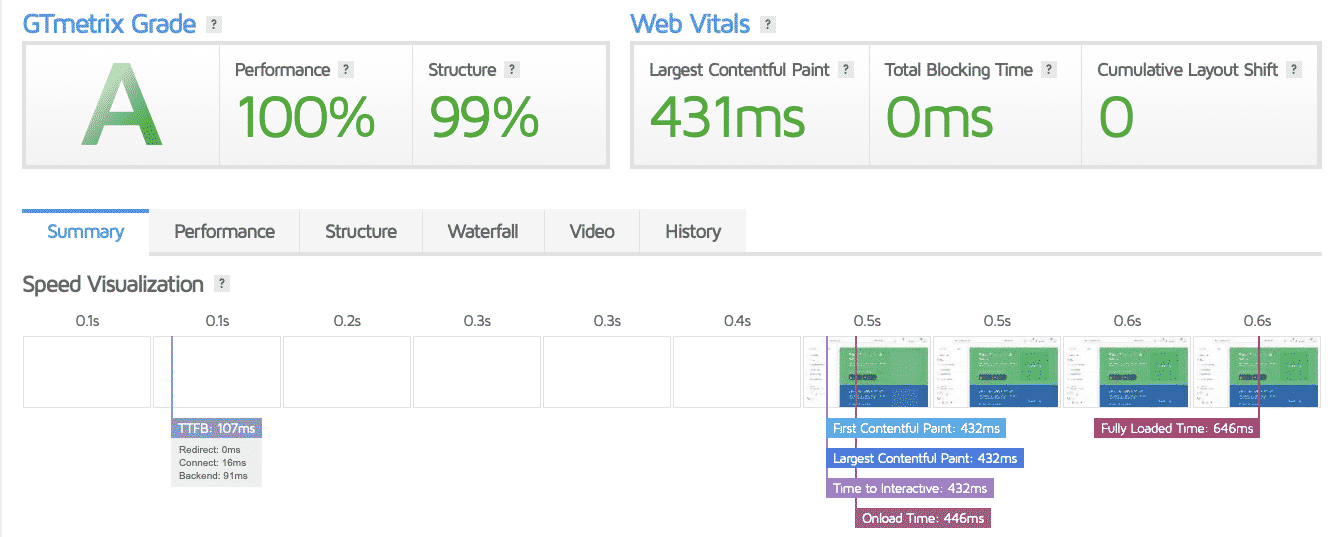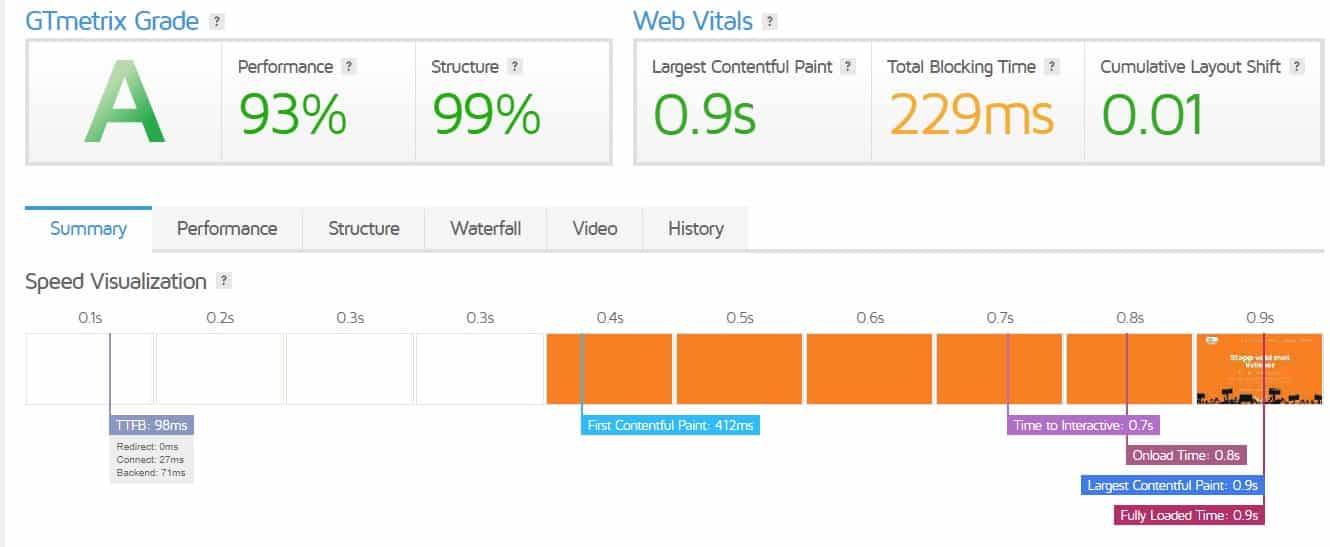 And these are just a few cases. Each project is unique and no one fits all of it. Each project has a different WordPress or Theme design. Plugin usage differs, but after our audit, we can already identify major website issues and let you know what positions we can improve.
How Long Does WordPress Speed Optimization Service take?
When we have all the information we need, it usually takes us 5-6 working days to work through the entire process. It might take some larger sites a little longer. It also depends how 'deep' client wants the optimization to happen. As we can optimize overall quality of the site and more in depth improvement only do to the main pages that generate traffic. 
Sites with a large number of images can also take a couple of days longer because it can take 24-48 hours to optimize the images.
Each case is unique and we always give an estimate before starting any work. 
How much quicker is my website going to be?
On good quality hosting the site load time should stay in the 1 to 3 second range (most sites we work on beginning with a load time of more than 10 seconds). 
In a perfect world, we want the site to be loaded in less than 1 second in the host country. That is the magic number the site load feels instantaneously. Not all sites can do this because third-party code can and mostly will slow down most pages ( Facebook pixels, Livechat and other marketing instruments).
What if during the optimization anything breaks?
Before we get to work we always do a full backup of your website. Significant changes and possible downtime threats will be discussed with you before they happen. In bigger websites with many visits we do offer that all optimization is done on staging site. This helps keep the site online 99.99%. 
We are doing enhancements that carry some risks, such as push support for HTTP/2. Those are optional and you can prefer not to have them done. In many cases it's not even needed. Depends on your business module and plans. 
Why is site speed important?
If you've arrived at this page, it's likely that your website is loading slowly or that you want to speed it up as much as possible.
I'm sure you already know, and I don't need to tell you that if a website takes too long to load, you'll lose patience and go somewhere else. It's the same with your own website.
The speed and user experience of your website are linked to your Google rankings, Adwords and Facebook ads, and all leads that arrive through it.
Prospects and even current clients will be irritated if your site takes too long to load. Google dislikes sluggish websites and has declared openly that they would not rank as highly in search results. This has also been validated by our experience dealing with clients on SEO.
Google's Core Web Vitals measurements, which were launched in mid-2020, placed an even greater focus on site performance and website loading times.
They've stated that, in the future, site speed would play an even bigger role in their SEO and organic algorithm.
It's difficult to deny that a slow-loading website has a significant negative influence on your company's overall performance, brand, and bottom line.
Improving site performance is quite simple, and it entails a high-level examination of the site's current status and the implementation of a set of site speed and technical best practices. Implementing these easy ongoing maintenance routines can ensure that your site continues to load quickly in the future.
WP Speed Fix fixes slow-loading websites and tunes fast-loading websites to make them load as quickly as possible.
We've now optimized over 500 websites since we began!
There is a completely mind-numbing amount of misinformation, disinformation, and self-perpetuating Internet propaganda about what Google really cares about when success comes to it.
Google doesn't care what grade you've got in GTmetrix or other website speed check pages, but it's a good metric to start with. What Google wants is an ideal user experience, as it is what people expect from the website. Simply put, the user 's perception of speed is the most important characteristic of by-far-and-away efficiency. It is, of course, why Google is so keen on optimizing content above-the-fold and why Google prefers websites that have incorporated Progressive Rendering to the fullest extent possible. 
In other words, the performance metrics that Google cares about most are the user-centric performance metrics that combine to shape the illusion of blazing rapid speed. Those output metrics in the real world include:
Can I optimize WordPress speed myself?
If yes, why do you need us to do optimize your WordPress site? We've optimized hundreds of websites and we know what we're doing. It can take you hours to understand what might take us a few minutes, while you can't focus on your business. We 're just here because we know what we're doing. We test your website on a number of browsers and make sure everything works after optimization.
Many clients have tried to optimize their websites, and many of them have the field to break the site. After that, we've got to understand what happened. This will bring more costs when it is not necessary.
We know what we're doing, and we will save you a lot of time and sometimes even money.
But if you want to try it on your own. Here are a few tips from us.
Choose High Performance WordPress Hosting
There are two very different kinds of WordPress hosts that you can find all over the internet. Let's immerse ourselves in the pros and cons of each. From the start, it 's crucial that you pick the right one, or you'll only cause headaches and waste time down the road.
1. Shared hosting on WordPress
The first and most common form of WordPress hosting is what we call "shared hosting," which involves the industry's largest hosts such as EIG companies such as Bluehost and HostGator, Siteground, GoDaddy Hosting. Usually they use cPanel, and typically the average customer pays from $3 and $30 month.
Anyone that uses this method of hosting will encounter slowness at some point, that's just a matter of time. Why? Since shared hosts tend to overload their servers, which will in effect affect your site 's efficiency. Site suspensions or regularly having 500 errors are normal things you will face because they have to put limits on it and combine resources to survive. Or worse yet, downtime at the website. Your WordPress site is most likely sitting on the same server as 200 + other users, even though you don't know it. Any problems that may occur with other sites may trickle your site over.
No matter how you do the math, $3 a month doesn't produce any money for the hosting business after expenses. Especially when you're assigning resources to that. One ticket to help and they're already in minus. The way they make a great deal of their money is by upselling and secret fees. These upsellings include issues such as relocation, domain registration, SSL certificates, etc. Another rising tactic is to offer big discounts on signups. Yet once you get the renewal through, you get the real bill.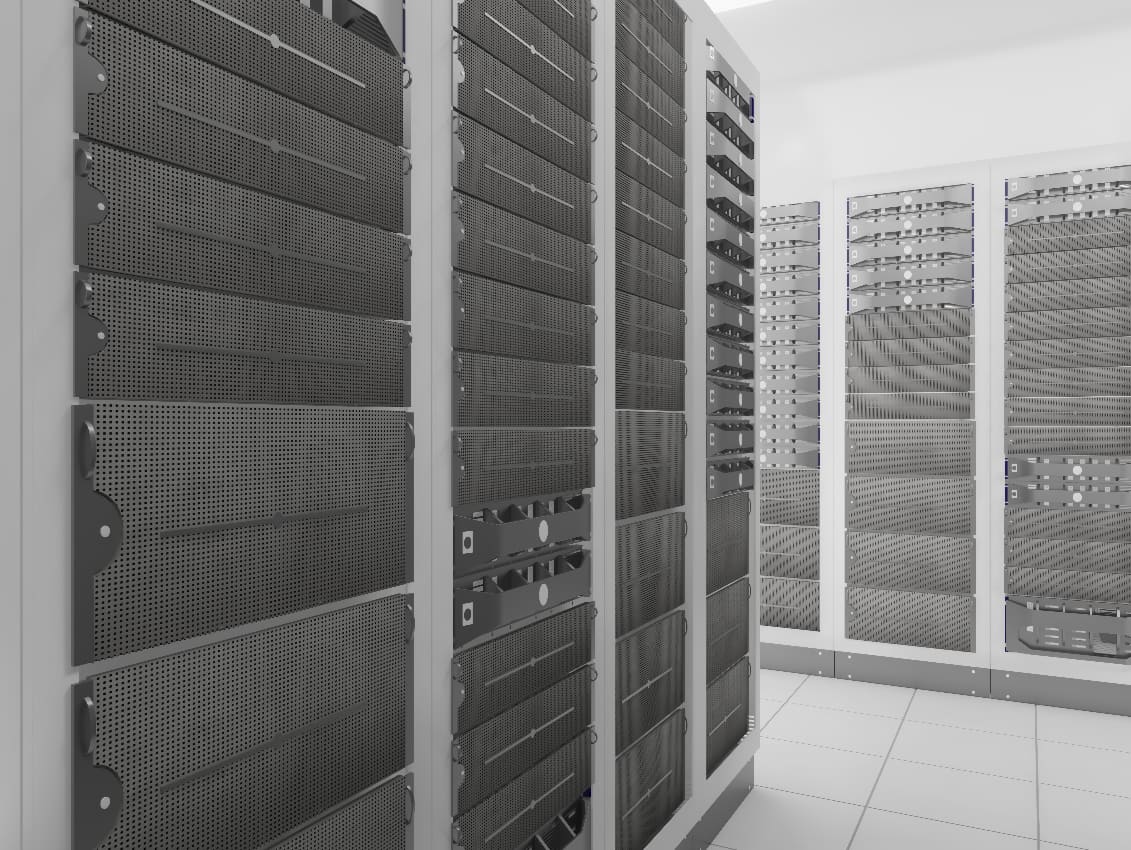 Many of those hosts are providing what they call their strategy for "unlimited resources." You already saw all of this. Okay, in the real world there is no such thing as boundless wealth. What hosts are doing behind the scenes is throttling customers using up a lot of money. That, in effect, ends up leaving some unhappy customers, making way for more consumers who don't make use of their money. Basically, you've got a vicious loop with the hosting company pushing for inexpensive plans and signing up customers they hope will not use a lot of money and buy upsells.
Due of the sheer number of sites vs. company members customer service and support for shared hosting are almost always subpar. Shared hosts have to spread quite thinly to just make a profit and this typically leads to an awkward user experience.
2. DIY WordPress VPS
The second form of WordPress hosting is DIY VPS, or "Do it yourself on a private virtual server." Usually, this crowd is made up of bootstrap startups and users with a little more growth, server management and WordPress experience. They are the crowd of DIY's. Usually, these people often seek to save money, but they are also increasingly concerned with efficiency and understand its role in their business success. Commons setups can involve the use of a third-party VPS provider such as Digital Ocean, Linode, or Vultr; along with a tool such as ServerPilot for easier management.
A small DigitalOcean VPS will start at $5 a month, and ServerPilot 's famous plan starts at $10 a month. And you might be looking at a cost of between $5 and $15 or more a month, depending on your setup. The DIY method will cut costs, but it also ensures that if anything breaks you are liable, and optimizing your server for results.
The DIY solution can be brilliant, but if you aren't careful it can also backfire on you. Don't take this path unless you're tech-savvy, or only because you want to tinker! Your time is worth the money and you can spend it on your company rising.
PHP 7 or higher for Best Efficiency
PHP is an open-source scripting and programming language on the server side that is used mainly for web creation. The majority of core WordPress software is written in PHP, along with your plugins and themes, making PHP a very popular WordPress community language. You can make sure that your WordPress host at least offers PHP 7 or higher.
There are various versions of PHP that will be installed on your server by your host, with the newer PHP 7.4 providing major performance improvements.
Image Optimization Is a Must
Photo optimization is another easy thing you can do that has a huge effect on average load times on your website. This is not optional; it should be done by any platform!
Large photos slow down the web pages, producing a user experience which is less than ideal. Optimizing images is the method of decreasing their file size, either using a plugin or a script, which in turn speeds up the page's load time. Lossy and lossless compression are widely used in the two systems. Don't forget to scale down your photos. We have seen on many websites that many images are resized using CSS, but if you use correct size from the beginning, you will need less CSS = faster website. 
Much like a car the database needs to be maintained, because it can get bloated over time.
Membership and eCommerce sites make it especially difficult because they create more complicated requests, which in effect adds additional latency to the MySQL database retrieval of the details. Part of this is due to all the extra moving pieces, and vast numbers of these data pages. It may also be due to sites which rely heavily on navigation search queries or use WP Query.
You can have huge numbers of concurrent users constantly querying the database, without knowing it.
Delete and Limit Page and Post Revisions
Whenever you save a WordPress page or article, that creates what is called a revision. It happens in both new drafts and already published articles. When you need to return to a previous version of your material, updates can be helpful.
Revisions, however, can also affect your WordPress site 's efficiency. This can add up to thousands of rows in your database on large sites very quickly that aren't really needed. And the more rows that you have, the bigger the size of your database, which takes up storage space. Although indexes were developed for this very reason, we have still seen the WordPress sites being crippled by this problem. There are only a few things that you can do.
If you've got an older WordPress site with loads of pages and updates, it might be time to make a quick cleanup and remove those old revisions. You can do this with MySQL, but with all the poor snippets of code floating around the internet, we recommend doing your site backup and using a free WP-Sweep plugin like that.